Function Packages
Rick Obey's Entertainment offers
Years of experience
Extensive music library
State-of-the-art equipment
Reasonable rates and packages to accommodate every occasion
An open invitation to check our references
Please call for a customized package for your Wedding or Event
To guarantee your satisfaction, our disc jockeys review detailed questionnaires which you complete so that all your special requests are met. More importantly, your disc jockey will be sure not to play any of those selections you specifically do not want played. Our disc jockeys strive to create a tasteful and discreet presence without overwhelming your guests. We pride ourselves on unforgettable service customized to suit and impress you and your guests.
Complete set up and breakdown times are included with your package rates, and there is never a charge for travel time, or cross over times. Our disc jockeys do not take breaks, so that you and your guests will enjoy non-stop entertainment throughout your function. You're welcome not only to meet your prospective disc jockey, but also to view him/her performing. Simply call or email our offices for a schedule of dates, times and locations.
Much of our business is derived from referrals because of the special attention we give our clients. We look forward to the opportunity to work with you for your function plans. To obtain a detailed package, simply email a request to us, and include your: name, address, telephone number, email address, date of the event, type of event (i.e. wedding, corporate party, birthday party, etc.), and we will promptly email you back a detailed package tailored to suit your needs.
We also offer our entire song list by email to help you pick out your music choices. Feel free to request a copy at any time. We also service the entire New England area.
Rick Obey's Entertainment offers uplighting customized for your special occasion, please consult our event coordinator for details.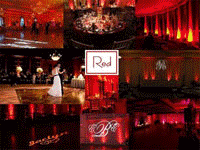 Rick Obey's Entertainment Company
40 Border Road | Reading, MA 01867
Email us at lawent@verizon.net
Phone: 781-944-0011 | Fax: 781-944-0269