Chip McConney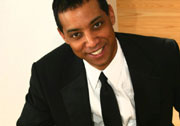 Present
Rick Obey's Entertainment
Reading, Massachusetts

As one of the most requested entertainers in the New England area, Chip is known for his energy, flexibility and dependability. He is happy to accommodate whatever type of music you're looking for at your event, whether it's traditional, contemporary, retro, classic, or cutting edge (or whatever else!). As an emcee, Chip keeps it simple by clearly and articulately making all essential announcements, and letting the music speak for itself.
Chip was the DJ for the winning couple on the Boston edition of TLC's hit TV show, Four Weddings (where brides rate each other's weddings for a grand prize honeymoon). Of course it was an amazing event and it was even better when one of the contestants shouted "I Loved her DJ!" during the competition interviews!
Chip realizes that being a skilled DJ means nothing without excellent communication and people skills. When he works with you on your event, his responsibilities go far beyond simply playing music and MC'ing. As far as Chip is concerned, he and Rick Obey's Entertainment have not succeeded unless we've gone the extra mile in helping you to successfully produce your event, and surpassing all of your expectations. DJ Chip's experience, combined with his style, personality, and talent make him an ideal DJ for your event.
2002
Official MC/DJ for the Boston Marathon Pasta Party
1987- Present
Mobile Disc Jockey -Professional Mobile Disc Jockey catering to weddings, corporate events and private functions.
On the Preferred Vendor List for the following venues:
Boston Harbor Hotel
Seaport Hotel
World Trade Center, Boston
Organizations
Toastmaster's International
Rick Obey's Entertainment Company
40 Border Road | Reading, MA 01867
Email us at lawent@verizon.net
Phone: 781-944-0011 | Fax: 781-944-0269